Our goal is to bring our clients the best in certified online food safety training. Our innovative web-based training now offers ultimate flexibility through our new self-study format. All our web-based training courses offer the benefits of Foodchain ID Services high standards in training, practical exercises and testing coupled with true 24/7 access from virtually anywhere in the world. Ideal for 1-1000, our built in administration area allows corporate users to track progress, results, completion dates and print copies of certificates of completion for their staff all online.
You may purchase our web-based training course at any time. Once you purchase your training, you will automatically be sent your access information by email so you can start your training immediately.
Some of the built-in benefits that our online CORE HACCP training courses include:
Accredited by the International HACCP Alliance;
Covers all required elements for 2-day classroom HACCP training;
Ideal tool for HACCP coordinators, HACCP team leaders, team members and staff;
Accessible when and where you need it, available 24-7-365;
Enroll in minutes;
Printable certificate upon course completion. A version suitable for framing is mailed with the Alliance seal;
Proceed at your own pace and around your own schedule;
Integrated testing modules (1 per unit) allows you to review and retain important concepts;
Comprehensive links and reference materials to support the building and maintenance of your food safety plan.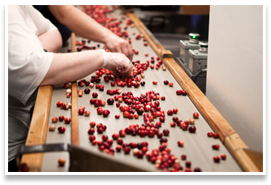 Processors and Manufacturers CORE HACCP is an online, self-paced course on the HACCP System and its prerequisites. The course focus is on the HACCP method to prevent unwanted hazards from being introduced into your manufacturing or processing operations. The course is certified by CERT ID and further recognized and accredited by the International HACCP Alliance.

The course consists of 11 units covering topics on meeting government, industry, and auditor requirements for the development of a working HACCP plan, including Good Manufacturing Practices as well as the Food Safety Modernization Act.